Over in the Ocean, in a Coral Reef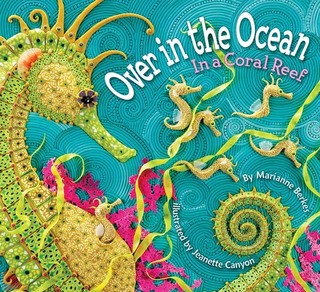 This coral reef is a marine nursery, teeming with parents and babies! In the age-old way of kids and fish, children will count and sing to the rhythm of "Over in the Meadow" while pufferfish "puff," gruntfish "grunt" and seahorses "flutter." The colorful art is fresh and fun--constructed entirely from polymer clay--and invites young fingers to fashion fishy forms. Includes background information on marine life that even older children will enjoy!

LATEST NEWS: On April 12, 2012 "Over in the Ocean" was released as an APP! It was voted by Kirkus as one of the best educational apps of 2012.

NEWS FLASH! "Over in the Ocean, in a Coral Reef," has won nine awards since its release, including: PMA Benjamin Franklin Silver Award; Marion Ridgeway Honor Book Award; National Parenting Publications Gold Award; Learning Magazine's 2006 Teachers' Choice Award,Bank Street College of Education Best Books for 2005, and the "Blue Hen Award," (Delaware)for best picture book. It is also listed on many other state library lists, was a Chickadee Award nominee in the state of Maine in 2006, and a 2009 nominee for the "Young Hoosier Award" in Indiana.

It was voted an honor book for the 2006-2007 FRA Children's Book Award. "Ocean" came in second place with 15,022 votes. WOW!

On Friday, May 16, 2008 this book was reviewed on "Just One More Book" a live audio book chat. Click on to http://www.justonemorebook.com/2008/05/16/a-catchy-coral-chorus-over-in-the-ocean-in-a-coral-reef/

Download reproducible bookmarks of four sea creatures that are in the book (seahorse, angelfish, octopus & parrotfish), which can be reproduced and given to students, at www.dawnpub.com. Click onto "Activities."

There are also several other activity guides, including an audio of the book and the song, which you and your students can sing to. Just scroll down to the "Ocean"book and click onto the cover.