Seashells by the Seashore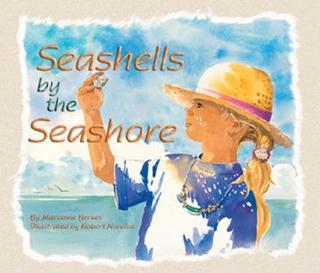 Little sea creatures build their shell homes in a wonderful variety of shapes and colors. In this lovely lilting rhyme, children walk the beach, counting, naming, and appreciating forever the whelk, olive and other beautiful shells, and the creatures that lived in them. The paperback edition contains a tear-out shell identification card to enhance the hand-on lesson in nature's simple wonders.

Ages 4-10, 9 x 10-1/2, 32 pages
ISBN 1-58469-034-8, Paperback, $8.95
ISBN 1-58469-035-6, Hardcover, $16.95
Dawn Publications, 1-800-545-7475

More Reviews:
"I love the gentle conservation message in this beautiful story."- M. McKenzie, Monterey Bay Aquarium.

"Berkes translates her love of nature into a lyrical exploration of shells. Noreika's illustrations transport readers to a luminous day at the beach. The realistic depictions of seashells on each page and the scientific information about them in the back of the book make the book a purveyor of a learning experience that enhances the enjoyment of a trip to the beach."
---Parents Guilde to Children's Media

"A pleasant introduction to shell collection...each on a delightful two-page spread painting of shore life."--Science Books & Films

"Charmingly written by Marianne Berkes and featuring the artwork of Robert Noreika, Seashells by the Seashore is a beautifully illustrated color picturebook story, written in simple rhyming verse, about a young girl who combs the beach collecting various and fascinating different shells. The importance of conservation and living in harmony with nature is alluded to, in a wonderful, very highly recommended picturebook story that comes with a tear-out seashell identification card for budding collectors." ---Midwest Book Review

In this rhyming text, a young girl accumulates a dozen shells as a gift for Grandma's birthday. Watercolor seashore vistas feature Sue as she enlists her brother and his friend in finding her treasures. A vertical bar on the left side of each spread gathers the labeled collection together for viewing as the day progresses. Berkes offers ample facts in her rhymes, and gives a short paragraph of information on each type of shell on a spread at the end. . . . Noreika's detailed, realistic shell studies gracefully contrast with the misty landscapes that capture a range of unique seaside hues..." School Library Journal


In March 2014, a board book version of "Seashells by the Seshore" was released. Younger children will enjoy discovering and counting 10 different sea shells in the lyrical verses.